Custom Language Instruction and Corporate Language Programs
Since 2001 we have been listening to our clients and delivering relevant language instruction across Colorado.
We specialize in teaching Spanish for specific purposes and English for specific purposes, and we'll be happy to work with you! If you're looking for more general conversational language classes, that's fine – we aim to please! Our goal is to help you and your staff gain functional language skills for your workplace.
How do we bring relevant language instruction to you?
First we'll schedule a call or a meeting to listen to your goals and objectives for bringing a language program to your workplace. This is the perfect opportunity for us to consult with you on setting realistic language goals that fit your timing and budget.
We will look at your scheduling requirements and make sure that we can meet your needs on a logistical level.
We will discuss any previous language programs you've run at your facility and what did and didn't work well so that we make sure to capitalize on previous successes and avoid previous problems.
We will put a contract in place and get started!
What makes Common Ground language programs different?
Functional Proficiency. It is really easy to waste time in a language classroom with tangential topics, unnecessary grammar and unrelated vocabulary. We focus on functional language proficiency. This means that our language instruction is intentionally focused on what is needed for success in the workplace. Usually our clients prefer a conversational language program – but at times the workplace reality requires literacy-based language instruction.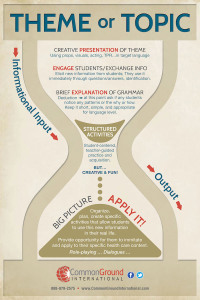 Unique Instruction Model. There are many theories out there about the best way to teach a language and a the easiest methods to learn a language. We've taken the latest research on language learning and implemented it into a unique language instruction model that gets amazing results!
Professionally Trained Instructors. Language training is our bread and butter, therefore all of our language teachers hold a degree in language education and have passed our rigorous employment screening. We only work with the best, and we guarantee your satisfaction!
Convenient locations. It's costly enough to have your staff not working during business hours. No need to add travel time to their time away from the job. We come to you!
Common-sense billing & scheduling. This is a language program at your workplace, which naturally means that last-minute urgent meetings will come up and you'll need to prioritize staff's time. No problem! We only ask for a 24hr notice if a class will be cancelled, and you won't be billed for it. Additionally, if your classes are scheduled to meet on a holiday, we'll reschedule for you. We start by collecting a 50% deposit to get your course on the schedule. At the end of each month, we'll invoice you for the language instruction you received.
How can you learn more and see if our language programs are a good fit for you?
It's pretty simple, contact us and we'll start the process lined out above.